It can be tricky to write or speak a TOEFL response with just your own words. The original words in a TOEFL source can be very hard to phrase in a different way. And the transitional phrases and organizational words you use in your responses will probably be ones you saw in a TOEFL template or other tutorial.
So you may wonder, can using the exact words from a source or template get you in trouble for plagiarism or lose points off your TOEFL score? I'm happy to report that the answer is no… so long as you copy words carefully and sparingly.
Copying words from the passages or audio tracks in Integrated Speaking and Writing
The TOEFL Integrated Speaking and Writing prompts are the ones where TOEFL test-takers are most likely to lose points for plagiarism. It can be very easy to copy a LOT of the original phrasing from a lecture or audio track you just took in, without even realizing you're doing it.
But even if you're very mindful of the original wording and very careful about plagiarism, sometimes it's really hard to think of a different way to say key terms or important phrases from your Integrated Task sources.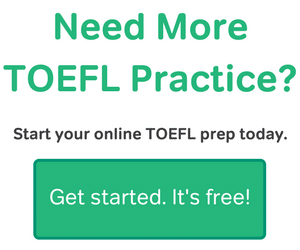 Take the Integrated Speaking passage on page 22 of TOEFL Quick Prep, Volume 4. The passage and lecture are both concerned with the psychology of human behavior. The text explains that "consequences"—the results of something a person does—can "encourage" or "discourage" behavior. The passage then describes this kind of encouragement and discouragement as "behavior modification."
While you obviously wouldn't want to copy any of the exact sentences or phrases in your own response, the terms behavior, consequences, encourage, discourage, and behavior modification are all standard vocabulary in the study of psychology. You can use these exact terms or slightly different forms of them without getting in trouble for plagiarism. In fact, paraphrasing these words may make your response sound strange or un-scholarly. "Activities" is a paraphrase of "behavior" but isn't a psychological term, for instance.
Copying words you memorized from templates and tutorials
Tons of self-study materials for TOEFL Speaking and Writing include long lists of phrases you can use when you give a speech or write an essay in English. Magoosh itself has templates for TOEFL Speaking and Writing. There are also many other lists of transition and structure words for TOEFL speeches and essays.
Some students have asked me whether it's really OK to use these exact phrases, and place them in the exact way that Magoosh and other education websites suggest. The answer is yes—on test day, you can use writing and speaking phrases that you memorized from templates. ETS will not treat this as plagiarism.
But be sure you use template wording in moderation. The idiomatic expression "substance over style" applies here. You want the substance of your writing—the real ideas you have—to be more noticeable than the style you write in and the kinds of phrases you use to hold your ideas together. If you use template phrases too much and repeat a lot of the same phrases over and over, your essay won't have enough real ideas, and will also seem unoriginal and dull. You won't get punished for plagiarism by ETS, but you will still definitely lose some points off your score.
The takeaway
It's absolutely OK to use some original words from TOEFL readings, lectures, and conversations when you give a response in TOEFL Speaking or Writing. In fact, it's unnatural to give a source-based TOEFL response that doesn't use any terms form the original sources.
It's also OK to use words from templates; just make sure that the template phrasing doesn't fill up your response, leaving no room for your own ideas.
Most Popular Resources