In IELTS Listening, you get a unique opportunity, one that you don't get on the TOEFL. You can read IELTS Listening questions before you hear the audio!
This can give you an advantage as you work to answer the questions. But how can you make the most of this advantage? Here are a few tips.
Use IELTS Listening Questions to Better Understand IELTS Listening Audio
This may sound a little backwards. I mean, don't you use the audio to understand how to answer the questions? Well, yes, of course. But you can also use the questions to get a feel for the information in the audio track, before you even start listening. Take the IELTS Listening questions in this sample task from IELTS.org. Look at these questions, and you'll know that the audio will discuss a shipping order. But you'll also know so much more. You'll be able to guess that the conversation will include details such as starting point and destination, package contents, dimensions of the shipping box, and cost of shipping. You can also tell that someone will say a name, and you'll need to listen for the last name.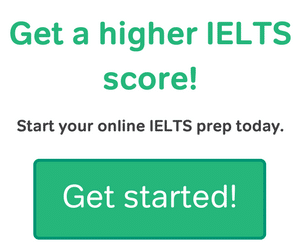 All of this gives you a really good sense of what the audio will be about. So you can start listening to the IELTS audio track for this activity with confidence and greater comprehension.
Use the IELTS Listening Questions to Know What to Listen For
This use may sound obvious. Naturally, you'll be listening for the information that will give you the answers to the questions you just read.
But think about what you're really listening for. You want to know what info you'll need, as specifically as possible. To see what I mean, look at these two multiple choice IELTS Listening questions. The first question is about insurance for a package that's being sent. The second question is about the type of location that the package will be delivered to. But there are a lot more details to those questions.
In the first question, there are three possible types of insurance you might hear the customer ask for: economy, standard, and premium. So you know that you will hear the customer identify one of those insurance types specifically. Similarly, the second multiple choice question also gives just three choices for destination: port, home or depot. So you'll be listening to see which of the three destination types will be chosen. You are now very ready to understand the associated audio track and answer the questions.
Read Ahead, But Don't Read too Far Ahead
So you can read the questions beforehand. Great! But remember, don't read too far ahead. You may have noticed that the two question PDFs above are both based on the same customer/clerk conversation. And of course, the two audio tracks are both part of the same interaction.
On the exam, however, you won't see different question sets in two separate PDFs, or on two separate pages. So it's easy to accidentally read more questions than you should. It's better to read only the questions for the part of the audio you're about to listen to. If you "read ahead," you'll have a lot more stuff to remember, and you'll be more likely to lose focus and make mistakes.
How do you know which IELTS Listening questions are the immediate ones that you need to focus on? Appropriately enough, you can know this by listening. On the real exam, the IELTS audio track will tell you which questions need to be answered next.