When you are studying for the IELTS exam, it can seem like the test is the only thing there is. It can also seem like a massive life obstacle, because unless you get a good enough score, you are prevented from going to the schools that you want to go to.
This can make it seem like your IELTS score is the most important thing in the world. The time and energy that you put into getting a good one, as well as how important it is for your life goals to score well, can make seem like the only thing worth worrying about.

So how important is my IELTS score?
Yes, your IELTS score is important. If it is not good enough for a certain school or program, then you will not be able to go there. It can be depressing, knowing that you can't go where you want to go because of an IELTS score that is not good enough. However, it is easy to focus so much on the importance of your IELTS score that you lose sight of the big picture. And that big picture is really about getting accepted.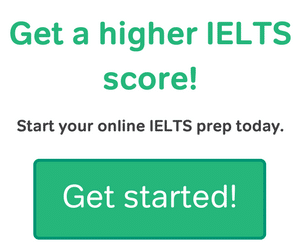 Schools Accept Applicants Every Year
One of the most important things to remember is that not getting a good enough IELTS score does not mean that you can never go to the English-speaking school of your choice. It only means that you cannot go there, yet.
Schools and universities have application cycles every year. Most have them every semester. Just because you did not receive a high enough IELTS score to go to that school this application cycle does not mean that you cannot apply again for their next cycle.

The IELTS Only Tests Your Language Skills
Not scoring well enough on a test can make you feel stupid. It is important to remember that the IELTS only tests how well you understand the English language, not how intelligent you are. Languages are difficult to master. English is regarded as one of the most difficult to learn. It can take lots of time and effort to learn it well enough to get a good IELTS score. Not having a good enough score yet does not mean that you are not an intelligent person in other areas.

Conclusion
Your IELTS score is all-important for going where you want to go, when you want to go there. However, not getting the score to do this is not the end of the world. There are other opportunities to make your goals happen: A poor IELTS score is only a delay on your path to where you want to be, not a sign that you are not good enough to be there.