Here at Magoosh, we give a lot of tips and tricks on what to do during IELTS prep. Today we'll look at what not to do in IELTS practise. The following are common bad habits among IELTS students. Doing these things can ruin your IELTS practise. So, if you're doing any of the following, stop.
Mistake #1: Using Only Unofficial IELTS Prep
As an IELTS tutor, I've been surprised at how many of my students come to me without having done any official IELTS prep from Cambridge, the British Council, the IELTS Essentials website, and IELTS.org. On any given month, 90 to 100 percent of the new IELTS students who come to me haven't tried the official prep materials at all.
Don't get me wrong. Unofficial materials — including the ones right here at Magoosh IELTS — can be useful. But nothing prepares you for the real test quite like real materials. If you don't use actual samples of exam sections from the makers of the test, it's almost impossible to be fully prepared for test day.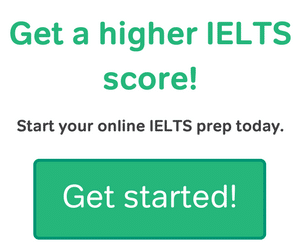 So learn how to use the 4 official IELTS websites. And know where to get official IELTS prep materials. Above all, make sure these official resources are a central part of your practice sessions.
Mistake #2: Doing IELTS Practise with Just One Style of Native English
British English — both spoken and written — undeniably dominates the IELTS exam. However, there is a significant amount of non-British English on this test too. In IELTS Listening, you'll hear not only standard British accents, but also the standard accents of Canada, the United States, New Zealand, and Australia. So know what accents to expect in IELTS Listening.
Also be aware that IELTS Reading will include both British-style writing and North American written English. The most obvious difference between UK and USA standards is spelling. However, there are also differences in wording, common phrases, and even some grammar rules.
If you aren't familiar with all the forms of English that appear on the exam, you can really get disoriented by unfamiliar accents or shifts in national writing style. Avoid the "one English" mistake in your IELTS practice!
Mistake #3: Trying to Rate Your Own Speech and Writing
The IELTS has official band descriptors for Reading and Writing. This can help you measure the quality of your own written and spoken English to a limited degree. However, it's pretty much impossible to rate your IELTS Speaking and Writing accurately without help. Find another person to read your IELTS essays and listen to you speak in English. This could be a study buddy, a family member or friend who's good at English, a tutor, a teacher, or a conversation partner. Just make sure you get feedback form someone, so you can really know how you're doing in IELTS practice for the Speaking and Writing sections.
Mistake #4: Focusing on Language Skills at the Expense of Pacing
Mastering your English skills can be a real joy. It's a thrill to be able to read, listen, speak, or write with minimal error in your second language. But there's a danger of focusing on language skills too much: you can forget to actually time yourself until shortly before the test.
Pacing is a difficult skill to master in and of itself. If you aren't able to go through the IELTS exam fast enough in the final days before you take the test, you may not have time to get your pacing to where it needs to be. So practice pacing and finishing tasks within the time limits early on. This skill goes hand-in-hand with the English skills on the IELTS.
Mistake #5: Not Practicing IELTS With Visual Information
The IELTS really emphasises a somewhat new idea in education: visual literacy. You need to be able to understand graphs, tables, and charts to do well on almost every section of the exam. IELTS Reading, IELTS Listening, and IELTS Writing all include a "visual information" component. Be prepared to interpret informational images quickly and accurately. It's pretty easy to forget this aspect of IELTS practise, but if you aren't sufficiently prepared to read, listen, and write in a "visual" way, you'll lose a lot of points on the exam.
Most Popular Resources