Announcing: Complete Explanations to Official SAT Study Guide Questions for the New SAT!


They are here: explanations for the math sections of the first two SAT practice tests in the College Board Official SAT Study Guide, also known as the Blue Book!
So why exactly did I record these explanations to the Official SAT Study Guide? Couldn't you just flip to the back of the College Board book (assuming you have a copy) or couldn't you just ask your smart "mathy" friend what the answers are? In other words:

Why Are These Question Explanations Better?

In my years doing test prep, I've found that it is one thing to show you the step-by-step way to arrive at the correct answer. It is another thing entirely to be able to break the problem down, to show you the ins and out, the hidden traps and the quick tricks. In these explanation videos, I go beyond the College Board's pat explanations (the answer is A because A is the answer) to show you what I feel is the most efficient way to solve the problem.
Many of the math questions in Practice Test #1 and Practice Test #2 (you don't need to buy the "blue book" to do these tests. They are free online.) represent a certain question type that you will see on the SAT. It is helpful to understand the question type because it will help you quickly determine the best approach to solve the problem. One of the benefits of having an expert explain the correct answer to each question is that things like techniques, trick and traps to avoid are highlighted. Taking note of these will help you better approach similar questions.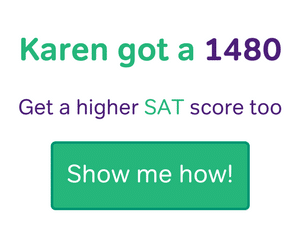 My hope is that these explanation videos will help take the stress out of SAT prep by giving you an inside look at how to solve all math problems quickly and confidently.

How to Use the Official Question Explanations for the SAT
If you miss a question, don't rush straight to the explanation. First go back and see why you missed the question. Was it a simple careless mistake? If not, you might want to dig deeper. Now that you have the answer in front of you, can you see how it can be arrived at? If after a few minutes, you still are unable to, then head over to the explanation video. After watching, go back to the question. Do you see it in a different light?
Even if you don't completely understand it, make a note of the problem and come back to it again. Oftentimes, the solution path the video took might not make perfect sense the first time around. But if you come back to the question a day or two later, things might click a lot more readily.
It's also important to remember that just because you got a question right does not mean there isn't a quicker way to solve it. So if you struggled to arrive at the correct solution, you might want to check out the explanation videos.
Finally, if you'd like some additional background on any of the topics or strategies you see in the explanation videos, you can access Magoosh's library of lesson videos. Lessons on Algebra, Word Problems, Geometry and Statistics & Probability are linked on this page for your convenience. You can also check out all of Magoosh's video lessons here. (Note: Many of our lessons are available for free, but some are paid only.)
Good luck, and hope you find the explanations helpful!
You can access the complete set of video question explanations on our Answers & Explanations for New SAT Questions page, or if you have specific question in mind, you can look the exact question up in our New SAT Study Guide for a quick answer!
Let us know what you think in the comments!