After weeks of preparation, the GRE sits on the horizon. You've spent hours and hours studying all there is to know about the GRE, attacking practice problems, and testing out strategies in mock tests. Now the time has come to apply all that you've learned. And there is a lot you can do to optimize what you've learned. But there is also a lot you can do to derail what you've practiced. So before you start putting your final GRE prep plan into motion, take note of these GRE tips and tricks for last-minute prep.
Last Minute GRE Prep is a Game of Odds
Do you play poker? Do you love taking calculated risks? Then you, my friend, will be GREAT at these last-minute GRE tips.
Test-taking is as much a game of skill as a game of luck. When you prep for an important exam, like the GRE, you have to spend time learning all the concepts that are tested on the exam. You need to carefully evaluate your strengths and weaknesses and address the weaknesses without ignoring your areas of strength.
But when it comes to the day of the test, you get what you get. If your exam contains mostly topics that you're very comfortable with, then you're in luck! If not, then you do the best you can with what you get. And that means using the multiple choice format of the test in your favor.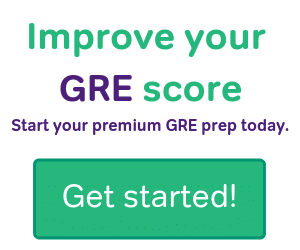 Let me explain.
If your GRE exam is in the next week or so, and you have a busy schedule, then you probably don't have enough time to do a lot of new skill-building. That's okay. You can still improve your odds of getting a good score by using your remaining time wisely.
Now, if you're like many GRE students who have been prepping for a long time, then your math skills are probably pretty solid. And you probably haven't focused too much on verbal recently, which means you're probably considering spending the next week doing vocab flashcards. And that's not a terrible idea, but committing a lot of new information to memory right before a test can have diminishing returns. You're only going to remember so much, you might not even see any of those new words on the exam, and you're just getting more tired and stressed in the process.
Getting tired before your exam is the worst thing you can do. You're just increasing the odds that you'll make a silly mistake, thus wasting the time you spent prepping for challenging questions.
Here are my top two tips for you at this point.
Best Last-Minute GRE Tips & Tricks
#1. Know the format of the GRE backwards and forwards
The GRE is a multiple choice test. Calculate how much time you have per question, and then give yourself slightly less time, on average, to complete each one. When you notice that you're spending too long on a question – skip it and make a notation so you can remember to come back to it later. Don't allow your self to waste time on hard questions when you could be getting more questions right.
#2. Trust in what you already know
Above all, stay calm! If you're reading the question, and you have an idea of what the answer is in your head, look for that answer in the choices. If it's there, then go with it. If it's not, then eliminate any answer choice that is definitely wrong. If it's a 50/50 guess, it's okay to go with your gut unless you have a factual reason to go with the other answer. Don't second guess yourself, and don't spend too much time on questions that are too hard or confusing. Come back to them if and when you have time at the end.
One Week Until the GRE Tips
Keep the intensity high and continue to study. If you are unsure what to do in your final week, here are some suggestions:
Take a practice test 5 – 7 days before the actual exam so that you can practice your pacing and build up your stamina for the long test ahead. Make sure to include all the essays and an experimental section too.
Review your notes, especially problems and concepts that you have struggled with. It's important to have everything you've learned fresh in your mind on test day.
Any practice you do at this point should be timed.
Work on your weaknesses as much as you can.
GRE Tips and Tricks for When You Have One Day Left
Do nothing! That's right. It might seem counterintuitive and it might seem like the last thing you should do, but you need to rest up for the big day. Cramming is not going to help you one bit on the test.
No test preparation all day! Seriously!
Eat a large, healthy, leisurely dinner—no alcohol!
Lay out all that you will need for test day.
Go to bed earlier than usual.
The Day of the GRE
ABSOLUTELY NO LAST MINUTE TEST PREPARATION!
Eat a large breakfast, full of protein.
Do relaxing, fun activities to pass time until the test.
Light exercise is a great way to burn off anxiety and prime your mind for the test.
Tips for the GRE Test Day: What to Bring
A valid ID that includes your full name, photo and signature
A liter of water
Healthy energy-packed snacks (nuts, protein bar, etc.)
On breaks, make sure to get up and move. Moving and stretching the large muscles of the body (legs, torso, and back) will get oxygen flowing, which will help keep you awake and keep you thinking clearly.
Some Final Tips for Taking the GRE
The power of positive thinking is profound. Every person at every moment freely decides their attitude. Regardless of all else that is happening or will happen, we all choose how we react and deal with struggles, challenges, and adversity. Now you are faced with quite a challenge—the GRE. So choose to walk into that testing center with some swagger. Stand tall and choose to be positive. Decide that you will totally dominate the GRE. Be confident in your abilities and trust yourself. At that point, you have no other recourse. You first must believe that you can dominate the GRE and reach your target score. After that anything is possible.
For more on how to succeed on the GRE, check out these tips from our Magoosh superfans (aka real students!).
Note: This post was originally published in January 2014 and has been updated for freshness, accuracy, and comprehensiveness.