We've been hearing a lot about workspace ergonomics lately – but what's all the hype about? Ergonomics is the science of designing the workplace around the worker. A healthy, ergonomic workspace can help keep office workers both productive and injury-free. We believe the same principles carry over to students and their study spaces, and that students who follow ergonomic guidelines can study more effectively! How can you ergonomically optimize your study space?
1. Consider an ergonomic desk
Shop around for an ergonomic desk – oftentimes you can find a desk that will allow you to adjust its height. Adjustable height desks give you the option of either sitting or standing, which can help reduce fatigue and discomfort. Make sure you find a desk that will be easy to operate.
2. Upgrade your chair
You can pick up an ergonomic chair from Staples, which is both effective and affordable. In general, you'll want to make sure your chair has a cushion (if you've spent hours at your desk for late-night study marathons, you'll know a cushion is a welcome addition to any chair!).
Arm rests are also a "must" for any ergonomic chair. Watch out for chairs that give you the option to adjust the seat height and back height. The seat height should let you put your feet flat on the floor and let you have your arms at the height of the desk. The back of your chair should be far enough forward to keep your posture straight. No slouching here.
3. Rethink how you use your computer
Your mouse and keyboard should be as close together as possible. The "B" key should be centered in front of you so that you're looking squarely at the center of your keyboard. Consider using a tray to lift up your keyboard – this way you don't need to look down at your screen, but rather you can look directly at your screen from where you're sitting.
We find that students who ergonomically optimize their study spaces can study better and smarter over time. If you have any other ideas for study space ergonomics, let us know in the comments!
---
About the Author: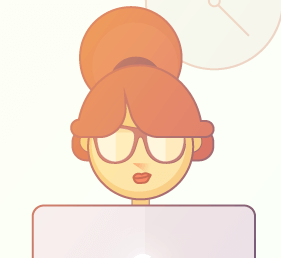 Catherine supports Magoosh's future grad school students by unlocking tricks of the test prep and application trade. Catherine spends her free time checking out local farmer's markets, reading food and lifestyle blogs, and watching Bravo. She is forever in search of the best Mexican and Italian food in any given city.
---
Photo attributions:
1 – Photo of desk courtesy of Flickr user Mike Rohde under Creative Commons License 2.0.
2 – Photo of chair courtesy of Wikimedia Commons user Badudoy under Creative Commons License 3.0.
3 – Photo of ergonomics guide courtesy of Wikimedia Commons user Berkeley Lab under Creative Commons License 3.0