No matter which grad school you're applying to – master's, b-school, law school, or med school – the checklist is the same. Be sure to check these 5 things before you hit the "submit" button.
Your application shows a complete, multi-dimensional picture of you.
Each section of your application should complement the other sections and not just show you as a strong candidate on its own. When the adcoms finish reading your application, they should have a well-defined picture of who you are as a well-rounded and special individual.
You've shown fit with the program.
You have thought seriously about who you are and how that person is well-matched with the school's mission, ideals, and culture – and you've expressed this fit in your application with clear examples and stories.
You have chosen the best recommenders.
These are people who know you very well and will be able to discuss their unique experiences with you in their LOR. Someone who doesn't know you well may end up writing a generic, superficial recommendation. Even worse, it could be an inaccurate assessment of you.
You've proofread, edited, and proofed some more.
Read each part of your application out loud. This will assure that you hear mistakes that your eyes may have missed. It's a good idea to have a friend, colleague, or family member read through your essay, or hire an admissions consultant to help you in your editing.
You've given yourself enough time.
Don't send in your application at the last possible moment. Rushing your app will create more space for error. The school's servers can be overloaded just before the deadline and you could lose you chance to apply on time if you wait until the last second.
For more tips on submitting your best application, listen to my podcast episode How to Give Your Application a Final Check, which comes along with a cheat–sheet to download.
Think your app's ready for submission? Why not have an expert give it the final stamp of approval? Accepted's admissions consultants are ready to help you put together an application that shines and shows off your greatest achievements and talents, one that you're confident about and excited to submit. Discover how we can help you get Accepted.
---
About Linda Abraham: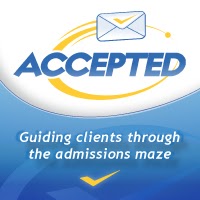 Accepted.com has guided thousands of applicants to acceptances at top universities since 1994 – they know what works and what doesn't, so follow Linda Abraham on Google+ and contact Accepted to get started or visit Accepted.com for all your admissions consulting needs today!
---
Photo at top courtesy of Shutterstock.com / Rawpixel.com
[crp limit="4″ post_thumb_op="after"]