Your personal statement, statement of purpose, or MBA goals essay can be the most difficult part of your application, but it's also one of the most important. The adcoms will want to know your current location (in life) and how you got here for your personal statement. The statement of purpose and goals essay, on the other hand, are like maps for your readers of where you've been, where you are, and where you're going.
MAP has another meaning for you when writing your statements of purpose and goals essays. It stands for Motivation, Aspiration, and Perspiration.
Motivation. What makes you work? What has led you to make the decisions you've made? Why have you selected your field of interest?
Aspiration. Where are you going? What do you hope to do right after you finish your degree, and in the longer-term as well?
Perspiration. What have you sweated to accomplish in the past? What causes or goals have you dedicated yourself to? When have you really exerted yourself to make an impression and impact?
An example of MAP at work
Since working in a financial planning office during her college summer vacations, Julie has dreamed of getting her MBA. She saw how the people in the office were able to help their clients achieve their financial goals and was enthusiastic about doing the same (M). Julie's plan was to complete her MBA and intern in the financial planning office. Her long term goal was to open her own firm and specialize in assisting women to become financially independent (A). However, Julie's grades in the first two years of college were short of spectacular, and she knew that she would have to improve them. While working in the financial planning office Julie took extra financial courses and was able to ace them (P).
By expanding on each of these, Julie was able to create a clear, cohesive, interesting goals essay.
Be sure to check your statement of purpose or MBA goals essay for MAP. If it has these three vital components you are unlikely to get lost.
Want some more great advice on how to write effective essays? Check out our free guide, From Example to Exemplary.
---
About Linda Abraham: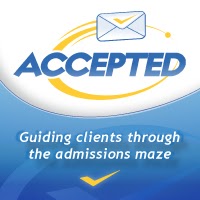 Accepted.com has guided thousands of applicants to acceptances at top universities since 1994 – they know what works and what doesn't, so follow Linda Abraham on Google+ and contact Accepted to get started or visit Accepted.com for all your admissions consulting needs today!