For those of you interested in creating a positive study environment conducive to improving your grades and test scores, check out our best tips!
1. Have a dedicated study space.
Your study space shouldn't be used for lounging or sleeping – rather, have somewhere that you use specifically for studying. This doesn't have to be a whole room – you can even use a corner of a room. If this isn't possible, turn a multipurpose space (like a living room) into a study space by first putting away video games, movies, etc.
2. Eliminate distractions.
Remove television sets, loud phones, radios, and other distractions from your study space. Your study environment should allow you to fully concentrate.
3. Stock up on supplies.
Keep a store of paper, pens, pencils, erasers, highlighters, rulers, calculators, notebooks, and textbooks with you at your study space. By preparing your supplies in advance, you won't need to spend time looking for them when you're supposed to be studying.
4. Keep snacks available.
Getting up to find a vending machine will only detract from your focus. Have your favorite quick and easy snacks or drinks available.
5. Regulate the room temperature.
If your air conditioning is on at full force and you're not dressed accordingly, you probably won't be able to concentrate on test prep or schoolwork. Regulate the temperature so you're not distracted by it.
6. File your work.
Keep track of work you've done by filing it away and categorizing it. You can keep a file cabinet or store papers in different desk drawers.
7. Make use of bookshelves.
Use bookshelves to store books and resources that you'll need for school and test prep. Bookshelves will keep your desk space clear and organized.
8. Put a clock near your desk.
Have a way to keep track of time without resorting to your cell phone. Your cell phone can be a major distraction when you're studying, so a clock is a smart choice.
9. Adjust the lighting.
Your study space should be well-lit. If the study area is too dark, you're more likely to feel tired and worn out. Avoid glaring lights.
10. Personalize your study space.
Personalizing your space helps instill a sense of ownership in your studies. Try decorating your desk wall with posters, a small college mascot, or a college wall decal.
---
About the Author: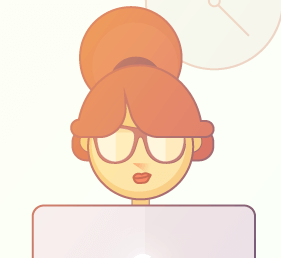 Catherine supports Magoosh's future grad school students by unlocking tricks of the test prep and application trade. Catherine spends her free time checking out local farmer's markets, reading food and lifestyle blogs, and watching Bravo. She is forever in search of the best Mexican and Italian food in any given city.
---