If you're not used to writing English essays under timed conditions, the writing section of the TOEFL can be tough. But with practice and hard work, you can get the score you need. 🙂 Below you'll find four TOEFL writing tips to help you ace this section of the exam. Happy writing!
Read actively, and notice what works and what doesn't
The people who score highest on the TOEFL are often those who read a lot in English. But even if you don't have two hours a day of free time for reading, there are ways that you can maximize the reading that you do. Basically, all this means is to pay attention when you read. It's great to get sucked into a story, and you should definitely allow yourself that pleasure! But set aside some time every time you read to focus on getting as much English knowledge out of your book as possible. Write down every unfamiliar word you encounter. When you notice a complicated structure or idiomatic expression, ask yourself whether you would have said it the same way. If you're not sure that you would have come up with exactly the same sentence, write the phrase down. Look it up later. Try to work it into a written summary of your reading. Learn the context in which that phrase can be used, and then make it part of your vocabulary. Modeling native speakers' writing is the only way to write like a native.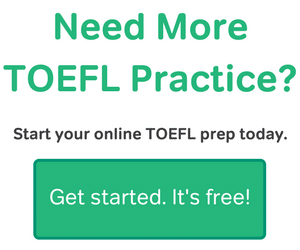 Seek feedback
If you have the time, money, and access, a private tutor is a wonderful resource to have. They will read your essays with you, correct your mistakes, and also be able to show you where you're communicating, but don't sound like a native. That being said, tutors are often very expensive—in the United States, private tutoring can cost anywhere between $25-$60 per hour.  Voxy.com, an online English learning subscription service, is a great resource for anyone who wants to improve their English. You can use their online lessons to improve grammar and vocabulary, attend group sessions on a variety of topics, and can book time with a private tutor. Generally speaking, you won't get quite the individualized attention you would get by booking an in-person tutor, but you can make great strides in your English proficiency without breaking the bank. If you don't want to spend any money on getting your essays reviewed, try a website like lang-8.com, where you can post practice essays and have native speakers correct them. On lang-8, reviewers typically only correct mistakes; they don't explain them.  So you'll need to be proactive about understanding the mistakes that you're making.
Look for patterns and do exercises
I like to keep a running list of all the mistakes I make in writing. Over time, things that used to look like isolated incidents begin to form a larger pattern that can guide my studying.  If you write three essays and compare the feedback you get on them, you may find that you consistently misuse the present continuous tense, for example. By keeping track of the errors you make, you automatically give yourself a list of the topics and vocabulary that you need to review.
Split your time between timed and un-timed practice
It's really important to know how long 20 or 30 minutes is so that you can use your time effectively. But there's also a lot of value in practicing the best English you can create rather than the fastest English. If you're weak in writing in general and you have a lot of time before you take the TOEFL, I would recommend doing only un-timed practice. Give yourself every chance to express yourself fully, avoid stupid mistakes, and revise your work. Timed practice is great for learning test-taking skills, but un-timed practice will be invaluable if you want to improve your English skills.