The IELTS and TOEFL are both great tests to take if you want to get into an English-language study program. Both exams are very widely accepted at universities in Native English speaking countries. Sometimes students wonder which exam they should take. This is a tough question that depends on a lot of factors. Other students decide to take both exams. Since some schools prefer IELTS while other schools prefer TOEFL, this route can increase a student's chances of getting accepted somewhere.
If you're studying for these two exams right now, there are some good approaches you can take to get the most out of your study time. These strategies can help you take advantage of both the differences and similarities between each test.
Reading and Listening
The biggest difference between Reading and Listening on the IELTS and the TOEFL is that the IELTS focuses less on multiple choice questions with just one correct answer. IELTS Reading and Listening focuses a lot more on activities that involve matching things and filling in tables and charts. In contrast, matching, tables, and charts are only a minor part of TOEFL Reading and Listening, which focus much more on standard multiple choice questions.
Exercises involving matching and the visual organization of information can be kind of challenging on the TOEFL, because they're so infrequent. You can use IELTS' larger number of non-multiple-choice practice materials to boost your skills in these more complex questions. You'll build key IELTS skills, and you'll be more prepared for these questions when they pop up on the TOEFL.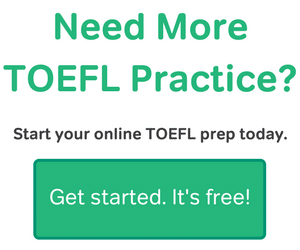 Writing
Like IELTS Reading and Listening, IELTS Writing is more visual than its TOEFL equivalent. IELTS Writing Task 1 asks test-takers to interpret charts and data. Be sure to focus on this kind of "visual literacy," even though you don't need it in TOEFL Writing. Seeing English words organized visually can give you a deeper understanding of English, and this in turn can help you do well on both exams.
IELTS Writing Task 2—independent writing—is very similar to TOEFL Independent Writing. But remember, IELTS gives you 40 minutes for independent responses, while the TOEFL only gives you 30. Because of this, your ILETS response will be more in-depth and detailed. As you study for both exams, you may want to expand on shorter TOEFL writing answers and turn them into slightly longer IELTS responses. This will help you understand the small but important differences between Writing Task 2 on both exams.
Speaking
IELTS Speaking is done interactively—you will talk directly to an interviewer instead of just recording your voice into a computer. This is very different form the TOEFL in some ways, but similar in others. Both the interaction in IELTS Speaking and the TOEFL Integrated Tasks found in Speaking and Writing require English multitasking. In both cases, you need to use different language skills (listening, speaking, reading, and writing) at the same time. As you study for these two assessments, make note of the similarities between Integrated TOEFL tasks and integration of language in IELTS Speaking.
Take-away
There are a lot of advantages to studying for both the IELTS and the TOEFL. The most obvious advantages are practical ones—having qualifying scores in both tests increases your chances of being accepted into English language study programs all around the world. There are also some learning advantages. While the tests are similar, they measure your English ability in some noticeably different ways. This is a chance for you to study your second language more deeply and practice it in more contexts.