According to our How the IELTS Speaking Section is Marked, the four criterion for marking your IELTS speaking score are fluency and coherence, lexical resource, grammatical range and accuracy, and pronunciation. Today's blog is going to discuss the common mistakes in IELTS speaking based on the four criterion. If you are studying for the test, try to avoid these mistakes to help yourself get a higher score!
Overuse of Verbal Fillers
Verbal fillers are words or meaningless syllables that you will say when your braining is thinking of the next idea. In other words, verbal fillers serve as a pause for your thought. Examples of verbal fillers include uh, um, like, well, I mean, kind of and you know. You can use these words to connect and organize your ideas when it is necessary. For instance, you can start your answer with 'Well, I think…'.
However, overuse of verbal fillers will greatly influence your language fluency. Below is a student's answer for How did you meet your best friend?
It's kind of like interesting story that I met him in my high school. We were classmates and we kind of talked a lot about our study and dreams together.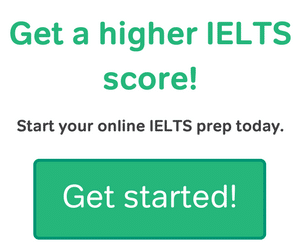 Tense Inconsistency
Tense inconsistency is a common problem among many students. For example, when describing something happened in the past, some students will use a combination of past tense and present tense within one sentence. Here is an example of tense inconsistent sentence: When I was a child, I like to play football with my friends. Tense inconsistency will lower your score as it is inaccurate grammar. Therefore, always remind yourself of the tenses when you answer the questions.
Repeat the same word
If you use the same word again and again, the examiner will think that you have limited lexical resource. Here is an example: It was an interesting experience because I met interesting people and interesting things. To increase your language complexity, you need to use different words to express the same meaning. We can modify the example sentence by using some other words meaning interesting such as funny and amusing. Check out our Five Ways to Remember English Words to expand your vocabulary!
Wrong pronunciation
Although you don't have to achieve native-like accent, you should pronounce words clearly and accurately so that the examiners can easily understand you. If you give wrong pronunciation, the examiners will feel difficult to understand your words and you are very likely to have a lower score. Find out your pronunciation problems with a friend or a dictionary and check out our pronunciation practicing resource to improve your speaking!
It may sound a little bit hard to avoid all these mistakes. However, I believe that you can fulfill your goal if you have made great efforts to improve your speaking ability by practicing a lot!
Most Popular Resources