Wondering when to take the ACT test? If you're a junior asking this question, good news! It's the perfect time to start thinking about signing up for the ACT. In this post, we'll look at how to use this year to your advantage, from when to take the ACT to how to prepare for the exam.
Why Should You Take the ACT in Junior Year?
Junior year is the ideal time to take the ACT exam. By junior year, you've likely covered all of the material that the exam will test in your classes. At the same time, you can also ensure that you'll have enough time to retake the exam if you need to, over the summer or during the first semester of your senior year.
With that in mind, here's what you need to know about taking the ACT your junior year!
Top Three Tips for Acing the ACT Your Junior Year
1. Take the PreACT or a Diagnostic Test
Taking a diagnostic test is the absolute best way to determine your starting point when it comes to ACT prep. Even better news? If you took the PreACT your sophomore year, you already have valuable diagnostic information you can use to shape your study plan.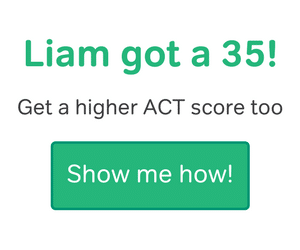 When it comes to the results of this test, don't focus too much on the score. The main benefit of your diagnostic exam is that it helps you understand where your strengths and weaknesses are. By using this as a tool to guide your test prep, you'll gain information that will let you tailor your ACT study plan to what you need to work on most.
As for the score you get? Think of this as a baseline score. It's useful in showing you approximately how close you are to reaching your goal score on the official exam. This isn't a predictor of the ultimate score you're capable of reaching, but it can help you decide how long to study for the ACT before taking the official test.
2. Decide When to Take the ACT
Once you have your PreACT/diagnostic test score, you can determine how long you're going to study for the ACT. This, in turn, will help you pick your official test date. Generally, the ACT is offered seven times a year: in February, April, June, July, September, October, and December.
As soon as you know when you want to take the test, register! Test centers can run out of spots for popular dates fast, often before the registration deadlines. Don't let procrastination keep you from your ideal test date.
There are a few things to keep in mind as you pick your ACT test date, which Kristin covers in great detail in Magoosh's post on ACT test dates. First of all, don't buy into the myth that some test dates are easier than others—as Kristin writes, "an analysis of past ACT tests reveals that there's no annual cycle in variations regarding the curves." In other words, though one test may vary ever so slightly in terms of the raw to scaled score conversion, you can't predict it ahead of time.
It's also a good time to start thinking about which colleges you want to apply to, and whether you'll be applying early decision, early action, or regular decision. The earlier the college admissions deadlines, the earlier you should take the ACT for the first time. This way, if you're not happy with your initial score, you'll still have time to retake the exam before the earliest application deadline–either to boost your overall score or to get better superscores.
Finally, figure out the tradeoffs for you, personally, between studying during the school year and studying during the summer. During the school year, you'll have competing priorities like schoolwork, midterms, or AP exams; during the summer, ACT prep may conflict with travel or other plans. On the other hand, you may be in a more academic mode during the school year, but have more time to study in the summer. Only you can determine when the best date is based on what's going on in your life!
3. Study Strategically
A lot of test-takers think that studying hard is the secret to mastering the ACT. Nope! Studying smart is. This includes setting a schedule in advance, zeroing in on your weaker areas, continually evaluating your progress with a series of practice tests—and keeping stress low.
This can be a hard balance to strike, but Magoosh has your back! Check out our top 10 tips for ACT prep. Then, head over to our study schedules to find study plans you can tailor to your life:
Junior Year and When to Take ACT Tests: Takeaways
If you're struggling to fit ACT prep in your junior year of high school, keep in mind that you do have lots of testing options. These range from taking the test over the summer (there are both June and July test dates) to seeing if the SAT is a better fit (you can even take the SAT in August). You may even want to look at test optional colleges. No matter what your situation is, you can find a test date that works for you! Once you do, be sure to use the best-quality resources available to prep smart, not hard. Good luck!
Popular Resources