In your TOEFL response, closely copying a source is plagiarism in the eyes of ETS. So what can you copy? How close is too close? Even when you paraphrase in TOEFL Speaking and Writing, you're probably going to use some ideas from the original source, right?
In this post, we'll look at how much imitation is OK in a TOEFL response. And I'll show you some common ways to use the words of others on the exam, ways that are acceptable and do not count as plagiarism under TOEFL rules.
Using ideas from example answers to TOEFL Questions
On test day, there's a chance—a good one really—that you'll get an Independent Speaking or Writing task similar to a question you saw in practice. So the answer you give on the exam might be similar to an example response you saw in a TOEFL guide.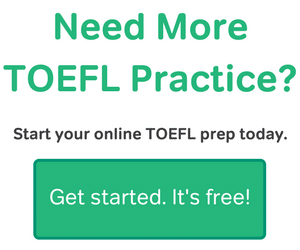 For instance, the official TOEFL website offers a sample Speaking Task 1 question asking if it's better to spend time at home or spend time at restaurants and cafes. They also give an example student answer. In it, the student points out that his apartment is small and there isn't much to do there. Then he talks about how he prefers restaurants and cafes, because they are more spacious and have more people. (You can see the question and a transcript of the full response here). *Note* This link is from the pre-August 2019 version of the TOEFL. It's still a great resource though! Just go to "Question 2" in the document and remember that it is the same as Task 1 on the current TOEFL 🙂
You may get an Independent Speaking or Writing question on the exam that's some variation of this, and asks about the best places to socialize or go to. And if you see a real exam question like that, you might think of using ideas from the response linked above. You may consider mentioning that you live in a small place, or that bigger places are preferable because they have more space and more people.
Employing just an example or two from a sample response you've seen should be OK. As long as you don't use the exact wording form whatever you read (which you probably wouldn't have memorized anyway), TOEFL scorers are unlikely to treat your response as plagiarism. Of course, don't use every single main point from a sample response you've seen before. There's a good chance this would get caught and labeled as plagiarism. You probably won't have that problem however, as the Independent questions on the TOEFL seldom perfectly match a publicly available practice question.
Using ideas from famous sources in TOEFL Speaking and Writing
Suppose you're looking at an Independent Speaking or Writing question, and you suddenly think of something a famous person said that's relevant. Maybe it's something Michael Jordan said about success, something Abraham Lincoln said about happiness, something Ghandi said about justice…. You get the idea. There's a lot of wisdom out there that may connect well to the personal and social issues found in TOEFL Independent questions.
It's OK to quote or paraphrase a famous source, so long as you credit your source, and don't let the quote or paraphrase dominate your response. (Remember, you have just 300 words—you want to leave plenty of room for your own ideas and writing!)
The takeaway
It's OK to bring up and use other people's ideas in TOEFL Speaking and Writing, so long as you do so in moderation, and credit any well-known person that you borrow ideas from. And believe it or not, it's also sometimes OK to use the exact words you saw in an original source. In my next post, we'll look at times when copying words and phrases is not plagiarism on the TOEFL.