Last Tuesday, we talked about the worst sources for TOEFL vocabulary. So this time, I'm going to stay on the same topic to give some advice on where you should get new vocabulary words to study.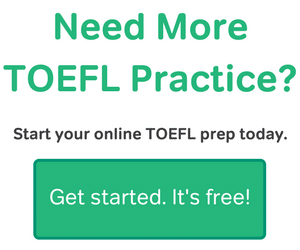 Official TOEFLs
When you're preparing for the TOEFL, you should, in general, use some official material to practice. So since you're going to use those practice tests anyway, you should also get vocabulary from that material! If a word has been on a TOEFL before, there's a chance it will be on a future TOEFL, too. So make flashcards of words you don't know in the official TOEFL material from ETS.
The Academic Word List (AWL)
A professor of linguistics from New Zealand named Averil Coxhead created a list of academic some years ago, and it's a gift to TOEFL students, because it includes over 500 of the most common "word families" in academic English (a "family" includes related words, such as "academy" and "academic"). If you know every word on the AWL, the readings and lectures of the TOEFL will be much, much easier!
You can find the 200 most important words for the TOEFL from that list in the Magoosh TOEFL flashcards, but there are many more!
Real academic sources
If you're applying to American universities, then you're going to need to listen to lectures and read textbooks in English. Start now for practice, and find new vocabulary while you do it! TOEFL texts and lectures are similar to real academic classes, so it's an appropriate place to find vocabulary that will be helpful both for the exam and for your future studies.
Many universities put recordings of lectures online for free, so that's a good place to start.
Most Popular Resources