In my last post on how to reduce test anxiety in your students, we looked at ways to help students understand their mistakes and understand test structure. This "de-mystifying" of the TOEFL goes a long way toward easing test anxiety. But there are other causes of test anxiety that TOEFL teachers also need to address.
Reduce text anxiety about the TOEFL clock
One of the most stressful aspects of the TOEFL is its time limits. When most students first begin TOEFL practice, they aren't able to complete question sets and tasks in time. And during early practice sessions, that's OK! But students often don't understand it's OK.
As a TOEFL teacher, you need to reduce these students' test anxiety by helping them understand that answering questions correctly and beating the timer are two separate skills. Have the students focus on selecting correct answers and properly completing tasks first. (You may even have your students initially practice the TOEFL without a timer.) Then, as they build these TOEFL skills, have them focus more on completing everything in time.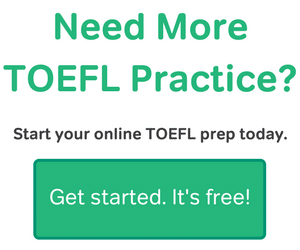 Reduce test anxiety about TOEFL scores
Much like the TOEFL timer, TOEFL scores are not something you want your students to focus on at first. When students first start to practice the TOEFL sections, their scores will be below their target score– sometimes way below. If students dwell on that too much, they can get very anxious and discouraged. Make sure your students understand that disappointing scores are inevitable during TOEFL prep… but so is score improvement.
As your students progress, have them focus on how much their scores are improving. Students shouldn't focus on the target score itself until they are close to achieving their target score… or close to test day.
Reduce test anxiety by making sure your students set reasonable goals
The best possible score on the TOEFL is 120. Some students may think the best score they can get is 120… or 115… or 110, or 100. And maybe they can reach those upper percentile scores. But the only scores they should be worrying about are the scores required by their schools.
Sure, getting 100-120 points on the TOEFL would be nice. But if a school is only asking for a 90, it doesn't make sense for a student to focus all their energy on getting a near-perfect score. Once the student can clearly reach that 90 benchmark, it's not reasonable that the student keep working toward a score that's a lot higher higher. If the student feels they need to raise their score another 10-30 points after they reach their school's requirement, that student is bound to feel test anxiety, as well as and exhaustion and frustration.
So make sure you manage your student's expectations. An unusually high TOEFL score never comes easily, and it's much healthier for a student to focus on the actual score requirement. Any points above the requirement should be treated as a nice bonus, not a do-or-die benchmark.
Most Popular Resources