If you are a teacher of English as a second language, you've probably heard about "teaching to the test," focusing on test skills instead of general knowledge. This teaching style is disliked by many students, teachers and education administrators. This is because teaching to the test often doesn't help students truly learn new information— it just gives them basic test taking skills. In this post, we'll look at how to teach TOEFL Reading and Listening in a way that gives your students practical language skills and helps them pass the exam.
TOEFL Reading
Reading is the TOEFL skill that most closely resembles academic reading in "real life" (outside of the exam). The passages in TOEFL Reading really are very similar to English language academic reading in first year university courses. And of course, your students will be expected to answer multiple choice questions about their reading in many college courses. So teaching TOEFL Reading "as is" can be very beneficial for students.
However, there are other ways in which TOEFL Reading is very exam-specific, and doesn't connect well to general use of English. The categorization, insert text, and prose summary questions are all designed to test a student's ability to comprehend, summarize and paraphrase the whole meaning of a passage. The TOEFL tests this by asking students to choose pre-written answers. However, in real, dynamic academic English use, students will be expected to show their understanding of a reading in their own words. Putting the ideas into their own words helps students gain a much deeper understanding of a reading. It also helps them actively build their reading skills. So when you teach TOEFL Reading, be sure to include short writing assignments and discussions in response to the passages.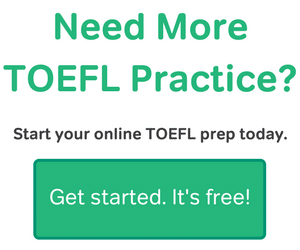 And of course, include longer academic reading passages from time to time. TOEFL passages are meant to represent excerpts from whole chapters and whole books. Make sure your students can also handle these longer readings. Mastering longer passages ensures that they'll be able to read the shorter TOEFL pieces easily.
TOEFL Listening
TOEFL Listening is more test-oriented than TOEFL Reading. What I mean by this is that every Listening task is the kind of thing that students would probably only do on a standardized test. In real English use, students aren't likely to listen to someone else's conversation and then answer questions about it. It's also pretty unusual to just passively listen to an actual university lecture and then answer multiple choice questions. In reality, your students will be able to ask questions during or immediately after a lecture, to make sure they understand everything correctly.
It's important to make sure that your students are very aware of the difference between TOEFL Listening and listening in real conversations and classrooms. Have your students engage in real conversation. Give them live lectures where they can raise their hands, ask questions, and answer questions.
After your students have gotten used to authentic English listening, do the TOEFL Listening activities. Encourage your students to talk about the differences between live lectures/real conversations and the lectures/conversations on the TOEFL. Teaching TOEFL Listening this way should give your students a strong understanding of what it really means to listen in English.