My co-worker Kate has already given you some good advice about how to choose the right TOEFL tutor for you. Once you've chosen a tutor, preparation is key to having successful, productive tutoring sessions. Your first session meeting is especially important; it sets the tone for the rest of your studies.  I've been working in tutoring centers as a manager and a tutor for several years now. Below is a list of the things that my most successful TOEFL students do before they begin working with their tutor.
Practice every section of the TOEFL
To know exactly what kind of help you need with the TOEFL, you should start taking practice exams before you meet with a tutor. ETS' Official Guide and test books provide the most authentic samples. You can also take an online practice TOEFL iBT through the ETS website. If you feel you can afford it, you may even consider taking the real TOEFL before meeting with your tutor. The exam can be retaken after as little as 3 days, so taking an exam just for practice is possible.
As you do these activities, which parts are hardest and which are easiest? Be prepared to tell your tutor how you feel about the exam after practicing it.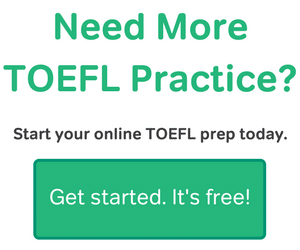 Assess your strengths and weaknesses
Think about which of the "four skills" (listening, speaking, reading, and writing) you are best at. How do your general language skills connect to the TOEFL tasks? Think of your test-taking skills as well. What strategies do you use on the TOEFL and other exams? What kinds of test questions and tasks are you best at, and which ones do you struggle with? Make sure your tutor knows these strengths and weaknesses before you meet.
Know what materials you'll be using
Even if your tutor has access to a lot of great TOEFL prep material, he or she will need your input to know which materials are best for you. Sample as many practice materials as you can. Find the websites and books that really speak to you and meet your learning needs. If you are not sure which materials are right, ask your tutor's advice before you first meet. Make sure you both know and agree on the materials you'll use in your first meeting.
The first session can be stressful for both the student and the tutor. But tutoring can really help you succeed on the TOEFL. By knowing the TOEFL, knowing your abilities, and having the right materials, you can make your tutoring experience a good one.