For many of the students I work with, TOEFL Speaking Task 3 is one of the hardest parts of the Speaking Section. The prompt is so packed with information!
The Complexity of TOEFL Speaking Task 3
In fact, you could even say that the TOEFL Task 3 Speaking prompt is deceptively complicated. At a glance, the task looks simple.
The passage is very short, and so is the audio track. But both cover a complex, argumentative structure. In 100 words or less, the passage will describe a policy or plan that affects students on campus, and will give two supporting reasons for the policy.
Then in one minute or slightly less, two students will have a conversation about the written announcement. But here's the important part — only one of those students will give information that's actually important for completing the task. That student — the opinionated one — will either approve or disapprove of the policy from the article. And said student will give two reasons for why they hold their opinion. The students' two reasons will each directly address the two reasons for the proposed change in the original article.
TOEFL Speaking Task 3 in a Chart
If you got a little confused while reading the above description of Task 3, don't feel bad. I almost started to feel confused as I wrote it! Actually, the information in the TOEFL Speaking Task 3 prompt can be broken down a lot more clearly in table form: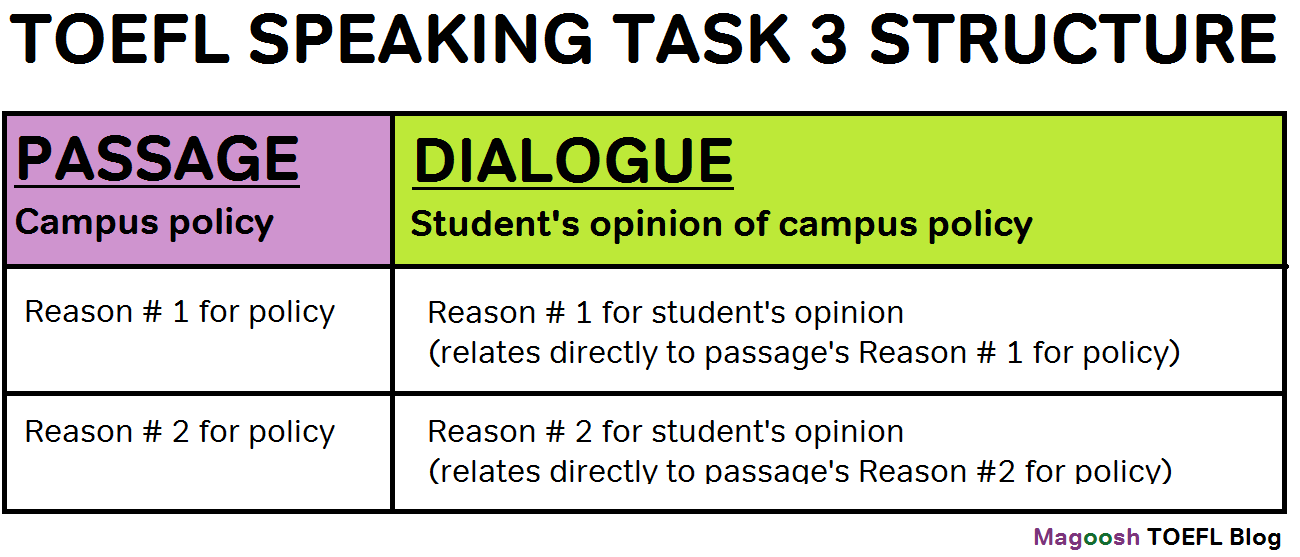 How This Structure Affects TOEFL Prep
As you prepare for the exam, knowing this structure can help you take good notes. Use the chart above to build your note-taking strategy for the task. You'll know exactly how many ideas to listen for in the conversation. And once you start listening to the student talk about the passage, you'll already have some idea of what the student's going to say. This definitely helps you take effective notes.
This can also help you avoid any unofficial practice materials for Task 3 that aren't truly TOEFL-like. If you are going through a Task 3 prompt form a privately published book or website and you don't see this structure, then you know the prompt isn't fully preparing you for the real test. On any non-ETS TOEFL Task 3 prompts, read the passage carefully and make sure you can see a clear university policy and two clear lines of reasoning for the policy.
Then make sure that the opinionated student in the dialogue is directly responding to the policy from the TOEFL Task 3 reading passage. In a truly useful Speaking Task 3 practice prompt, the student will have a clear opinion about the campus policy, and will support their opinion by directly responding to both of the passage's stated reasons for the policy.
Most Popular Resources