You've taken the IELTS exam 5 times already. Each time you studied hard, but still didn't get the score you needed. Part of you wants to retake the exam one more time to get that 7.0 or higher, but the other side of you just has no motivation to study IELTS any more. I understand.  In our busy 21st century lives, it is hard to fit in studying for an IELTS retake around all of your other must-dos.  And if you've taken the exam 5 times already, it can feel like an insurmountable challenge to get that 7.0.  Your motivation to study is at an all time low.  Well I'm here to help you get motivated to retake the IELTS.  Use these 5 strategies to get you excited about preparing again.
Practice Positive Self Talk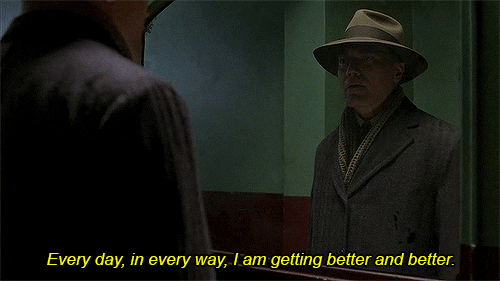 Ok, I know that this sounds a little new age, but extensive research shows that regularly telling yourself a positive statement can actually help make that statement come true.  So this is what I want you to do.  I want you to create a positive IELTS statement that you say to yourself every morning before you get out of bed and every evening before you drift off to sleep. Below is an example. Over time, your brain neurons will start to believe this statement and it will come true.
Example:  "I am an IELTS Star!  I love studying and preparing for my IELTS exam.  It is fun and helping me to achieve my goals. I will get a 7.0 or higher on my next IELTS exam."
Find Someone to Hold You Accountable
By this, I mean find someone that you can rely on to regularly ask you about how you are doing with your IELTS studying.  Research shows that we are more likely to let ourselves down than other people.  So find someone important to you.  Tell them that you are studying again to retake the IELTS exam.  Set yourself a commitment of working on the IELTS for a set amount of time each day and tell your friend about that commitment.  Ask them to regularly check in to see how you are doing.  Trust me, telling your friend or family member or colleague that you didn't do your studying today because you were tired or too busy is much harder than just letting yourself down.
Get Some Praise
It is easy to have become discouraged with studying and your IELTS scores. It is easy to think that you are hopeless at learning the English language.  Human beings are very good at seeing the negative in ourselves before the positive.  So here, I want you to find someone else to evaluate your work.  This someone needs to be able to give you regular positive encouragement on your progress big and small.  A professional ESL teacher either online or in a one-to-one classroom is best for this; however, any native English speaker that you can regularly meet with to check your progress will be great for this.
Track Improvement
Studying for the IELTS can feel like a never-ending uphill battle, so be sure to remind yourself regularly how far you have come.  To start, set achievable, short-term goals.  Maybe for the IELTS Writing Task you have the following goals:  "By the end of week 1, I will know how to write a concise introduction.  By the end of week 4, I will be able to write the Task 2 within 50 minutes." And so forth.  Next, use self-evaluation forms to check each week how you are improving. My writing and speaking self assessment checklists are a great resource to track where you are currently at and how you improve.  You can create your own for the other areas of listening and reading.  The point here is to visually see where you have mastered concepts that you once struggled with.  This will help refresh your confidence and remind you that your hard work is having a benefit.
Picture Your Goal
Why are you taking the IELTS exam? Are you trying to get your dream job?  Do you want to have a better life to provide for your family? Find your reason, then find a picture that reminds you of that reason. Maybe you want to immigrate to Australia so that you can live with someone you fell in love with abroad.  Get a picture of Australia and that person you love and put that picture up somewhere you will see it regularly throughout your day.  Put it on your phone.  Put it above the desk you will do your studying at.  Put it on your bathroom mirror.  Put it in all those places.  Regularly reminding ourselves why we are doing something will help keep us motivated to do it.
To conclude
Implementing all of these motivation tactics will compound together over time, and before you know it you will find yourself looking forward to studying each day. Well, maybe not jumping out of bed looking forward to it, but you will find it much easier to motivate yourself to keep up the hard work.