Calling all future English majors! Want to get a leg up on the college admissions competition? Have you considered taking the SAT Subject Test? In addition to the general SAT that everyone takes, College Board also offers SAT exams oriented around specific subject areas, like Math, Science, and History. SAT Literature tests you on skills like critical reading and literary analysis.

Why Do I Need to Take an SAT Subject Test?
SAT Subject tests are generally optional, though some selective programs might include the Subject test as part of their admissions requirements. But, even if schools or programs you are applying to don't require Subject test score reports, a great score can only help you! By sending an SAT Subject test score report, you show your college admissions officers that you are serious about your college applications and ready to learn about your field at a collegiate level. That's some serious application boosting!

What Does the Exam Look Like?
Unlike the marathon general SAT test, the Literature Subject test seems lightning fast.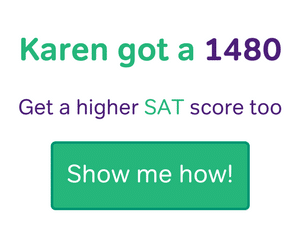 Only 60 minutes long
6 – 8 literary passages
About 60 multiple choice questions total

Because the goal of the Literature Subject Test is to measure how well you can interpret different types of literary texts, the exam includes approximately half prose, and half poetry and drama passages, all taken from Western (American, Canadian, European) authors. These texts encompass a range of historical periods:
40% 20th century (think Virginia Woolf, George Orwell)
30% 18th and 19th centuries (think Jane Austen, Emily Dickinson)
30% Renaissance and 17th century (think Shakespeare, Dante)

Remember, this isn't the history subject test. You don't have to know or answer questions about the history surrounding these passages. But, stuff like date of publication (info the SAT gives you!) can help you place the passage in context to figure out what's happening in the passage, and help you figure out vocabulary words specific to a time period.

For each passage, you'll face a set of questions specific to the passage. What that means is, you won't get a question asking about stanzas or poetic speakers for a prose passage that has a narrator. It's a good idea to dust off and review all those terms you learned in English class, like imagery, alliteration, metaphor, personification, tone, and theme. (Get started with a few of those terms here.) You'll also want to make sure you have a good understanding of character, speaker, and narrator, as well as literary structure (think genre, poetic stanzas, plot arch). Literary terminology will be all over this test.

What Will My SAT Literature Score Look Like?
For the Subject test, you gain one point for each correct answer, while you lose a fraction of a point for incorrect answers. The good news is, you don't lose any points for skipped questions! Because your incorrect response points are subtracted from your correct answer points, it's possible to achieve a high score even if you need to skip some questions you are unsure about. Your total points then undergo special SAT scoring magic to be translated into a number between 200-800, which is sent to schools.

How Can I Prepare?
So you've decided to take on the SAT Literature test challenge. While the SAT generally covers literature taught in high schools, you might recognize some passages on the exam…and you might not. Reading is one of the best ways to prepare for the SAT Literature Subject Test. This list is an excellent starting point for the types of passages you'll see on the test. You've probably read quite a bit in your classes at school, but reading on your own boosts your vocabulary, reading speed and comprehension, and is generally good endurance practice.