A very common question on the reading passages is the vocabulary-in-context question. Students also tend to make a very common error on these question types: matching up the answer choice with the words in quotation marks.
Let me show you how this works.
As it appears in the passage, the word "heralded" most nearly means
(A) believable
(B) indistinguishable 
(C) celebrated 
(D) permissible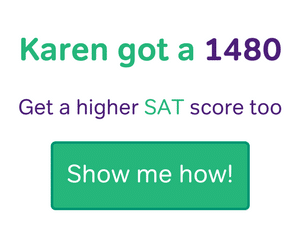 (E) announced
This is our standard vocabulary in-context question. Notice that a word is in quotation marks. Notice, as well, the words "as it appears in the passage". This is key because we MUST look at how the word is used in the passage in order to get this question right.
Yet—and here is the big kicker—students continue to go to the last place they should when looking for the answer: the answer choices. See, the SAT has arranged the answer choices very nicely so that a word you associate with the word in quotations marks is waiting for you. Waiting to trap you that is.
For instance, in the question above when you think of heralded, you probably think of herald, a person who announces something. So like that you go to (E). Even if you still go to the passage, you mind has already been influenced by (E). The logic is once you've made a choice—even if it is the wrong one—it is very difficult to change your answer.
So the first place you should go is the passage. Next, you should go the line where the word in quotes appears, and you should read the sentence as though it were a Sentence Completion question, pretending that the word in quotes has suddenly disappeared and been replaced by —– . Now, just as you would with Sentence Completions, come up with your own word. Then, match your word with the words in the answer choices. Let's try it.
Today, the number of authors churning out novels is perhaps greater than at any time in history. That's not so much because talent has flourished as there are simply more books being published today. Of course with so many recent novels claiming literary prizes, one would be inclined to believe that many works published today are instant classics. I'm not sure if this is the case—or indeed if anyone today is in the position to claim any recent book as worthy of the exalted tag: "Classic." Part of the definition of a classic, after all, is that the work is still heralded decades after it was published. That the generation a few decades hence will perceive our present time as a golden age of literature is possible—though it may be too busy bestowing prizes on its own novelists.
If I replace the word "heralded", I come up with the word "praised" or "liked". These words don't have to be fancy SAT words—in fact they shouldn't be. Just come up with a simple word and match that with one of the answers. In this case, which one of these answers works best?
(A) believable
(B) indistinguishable 
(C) celebrated 
(D) permissible 
(E) announced
Only (C) is even close. If a book is praised or liked, then it is celebrated. (E) doesn't make any sense at all (What does it mean to announce a book decades later?) At this point, you may want to put the word you've chosen into the text to see how it sounds.
Part of the definition of a classic, after all, is that the work is still celebrated decades after it was published.
One final note: try not to just start plugging in the answer choices from the very beginning. This turns on the how-it-sounds part of your brain vs. the analytical part of your brain (you can probably guess which one the SAT rewards). Only plug words in if you are totally confused and can't come up with your word.
Also, be sure to find out more about how the SAT tests vocabulary.
[crp limit="4″ post_thumb_op="after"]