It's down to the wire, ladies and gentlemen.
If you're signed up for the SAT this Saturday (May 3rd), you should have started studying…exactly 30 days ago. But, I was in high school once. I know how it is: you add SAT prep to your calendar, you stroll down to the public library down to street to borrow the big blue book, you prop down on your bed intending to begin SAT domination…and 1 month later, you end up on Magoosh SAT's blog, freaking out because you've got only 4 days left until your SAT.
It's the story of high school students throughout the generations, so it's no surprise that you've found yourself in the same boat. The good news is that there's tons of advice out there to help last-minute studiers like you survive–and even thrive–on your fast approaching SAT!
So without further ado, here are 5 tips I'd recommend you stick to this week, if you want to make it to Saturday with your mind in one piece! 🙂
1. Use a study schedule. 
It's never too late to start! In fact, we've got a 3-day study schedule that should take a look at IMMEDIATELY. That'll give you a guide for what to do in the next few days leading right up to your test.
2. Sleeeeeepppppp.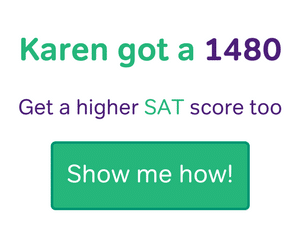 I'm serious! It might not sound like a tip that should have make it onto this list, but research has shown time and time again that you perform better when you've had enough sleep. So do it: get at least 8 hours of sleep each night this week, and you'd be surprised how much of a difference that makes on test day.
3. Get a vocab refresher. 
The SAT verbal section is an area of the test where you definitely can't fake it: you just need to know your words. So, make the most of every spare moment this week. Instead of loitering the the streets of your city at lunch time with your friends, or screaming at the top of your lungs to your favorite Selena Gomez jams on your way home from school, sneak in some vocabulary flashcard practice, and your test score will thank you for it.
4.  Eat yummy (but good!) stuff. 
In addition to sleeping enough, your brain also thrives when you give it the right nutrients. So come Saturday, be sure to eat a nutritious breakfast, complete with vitamins, protein, high quality carbs, and stay away from energy drinks or high sugar food. That's what makes for a true breakfast of champions!
5. Relax. 
It sounds cliche, but it's true. Whatever happens on Saturday, it won't be the end of the world. At worst, you'll learn a lot about the test and be better prepared next time around; at best, you'll be one step closer to getting into the school of your dreams. Regardless of which destiny fate assigns you on Saturday, Magoosh will still be here to cheer you up and guide you on next steps to take. 🙂
Now good luck to you all! Come back after you've taken the test and leave me a comment below! I'd love to hear how your test day went. 🙂