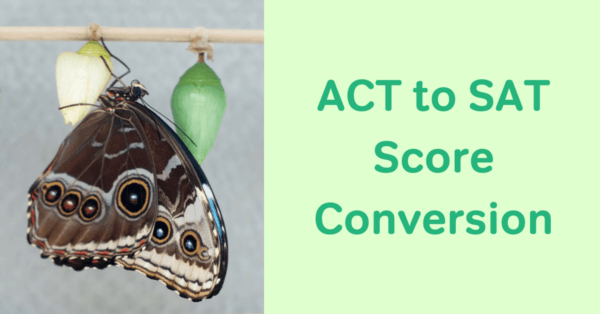 How Do I Convert My ACT Score to a New SAT Score?

Because both the SAT and ACT scores are scaled, your ACT to SAT score conversion calculation is a bit more complicated than simple multiplication or addition (it's unfortunate, but true). To compare your ACT Scores to both New SAT Scores and Old SAT scores, check out our ACT to New SAT to Old SAT Conversion Chart.

With every major college and university in the US accepting both SAT and ACT scores for admission, there has to be a way for schools to compare the scores of their applicants. Although some schools have their own system, in general, most educational institutions use a conversion table (aka a concordance table) to compare ACT to SAT scores that has been released by the official testing organizations.
Following the release of the first batch of new SAT scores in the spring of 2016, the College Board released their official ACT to SAT score conversion chart, which you can see below. Although the ACT has not yet released their version, based on our analysis of ACT scores, new SAT scores, and old SAT scores, this chart is absolutely close enough for you to use to convert your ACT and SAT scores, and it is official information from the College Board.
ACT Composite Score
New SAT Total Score
(400-1600)
11
590
12
680
13
740
14
780
15
830
16
870
17
910
18
950
19
990
20
1030
21
1070
22
1110
23
1140
24
1180
25
1220
26
1260
27
1290
28
1320
29
1360
30
1400
31
1430
32
1470
33
1500
34
1540
35
1570
36
1600
How Do I Convert My ACT Score to an Old SAT Score?
If you have scores from the old SAT that you wish to convert to ACT scores, you can use our ACT to Old SAT to New SAT Score Conversion Chart.

A Handy Tool! → If you are feeling too lazy to look at a chart or graph, you can plug your ACT or SAT scores (or practice test scores) into the College Board's Score Converter app and presto! Your score will be converted.
How Accurate is This ACT to SAT Score Conversion?
The ACT and SAT worked together in 2005 to study all of the graduating seniors who took both tests and developed concordance charts out of that study. But now SAT scoring has changed with the new SAT. The College Board and ACT have not yet collaborated on a study comparing new SAT and ACT scores. Still, what you see above is official information from the College Board. Colleges will need to use something this fall to compare test scores for students, and it is our guess they are going to use these charts. But if something happens in the meantime, we will keep you posted!
You'll notice that there are jumps in scores provided for the SAT for each ACT score point. This is because the SAT has more score points (1600, to be exact, in increments of 10), whereas the ACT has only 36. So if you got an ACT score of 28, you could assume this equates roughly to an SAT score of 1320, but really you could be anywhere between 1300 and 1350.
However, as a student, you should always keep in mind that the ACT and the SAT are very different tests. These concordance tables are a convenience not a fact. You may be more naturally adept at one test or the other. It's certainly not unusual for a student's scores to vary significantly between the tests, so if you are just starting, or in the midst, of your exam preparation, it is a good idea to check out the ACT vs the SAT to see which test suits you best.
Will This Score Concordance Table Change as More Students Take the New SAT in 2016?
The SAT and the ACT might go back to the drawing board to make sure that these conversions between ACT and SAT scores are still accurate once more students take the new SAT. But there is no word on this as of yet. Keep your eyes peeled here for updates!