Before you can really jump into your GRE prep, you need to know what you're going to build up to in the first place: what the GRE consists of and what your weaknesses are. There are a couple of ways you can get started with that. One is to simply take a practice test. The results will draw a pretty clear picture of where you stand. Many classes, tutors, and self-study programs will start out with a practice test for that reason. It seems pretty intuitive, right? What better way to find out what you need to work on than to try out the test?
But that's not necessarily a great idea. If you're already wary of one section or another, the experience of a full test can be overly stressful and demotivating. In that case, it's better to build up the basics a bit before taking any full-length tests. After all, the only reason we take the GRE diagnostic test is to "diagnose" what needs work. So if you already know what you're going to have trouble with, then there's no point in confirming with a brutal four-hour test, an experience that can leave you feeling hollowed out and utterly discouraged if you know little to none of the material that the test includes.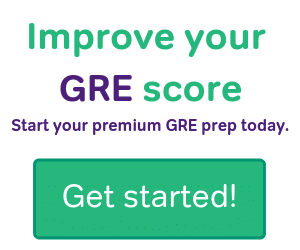 Let's say you were going to play in a one-on-one basketball tournament (there's any number of reasons why this isn't a very realistic scenario, but bear with me). Now, you don't actually want to compete, but you have to. You've only ever played basketball a few times, and you know you have a long way to go before you can actually win a game. You do remember that you were never very good at dribbling, though, and that's partly why you haven't played much. It seems dumb, but for some reason, every time you try to walk while dribbling (never mind running) you lose control of the ball. But you decide to play a few games anyway, to see how much work you need and what it's really like to play one-on-one. And what happens? You're eaten for breakfast. You leave the court humiliated, and you're definitely not looking forward to the tournament.
The metaphor is simple enough that I won't bother drawing the connections to the GRE for you. Before you take a full-length test, it helps to build up your confidence at least a bit, to learn what you're capable of and learn how to improve it. You are definitely going to doing with that test-like practice soon, but that's not the first thing you should do. Before that, you'll want to spend some time dribbling the ball up and down the court by yourself.
But again, this only makes sense if you are in fact somebody who hasn't used some fundamental skill in years, and you know what to work on.
If, on the other hand, you do think early on that you have a basic understanding of each section of the test and just don't know where to begin, taking that diagnostic can give buckets of insight into what you'll need to train up. Bear in mind that getting better at the test isn't just about learning the content—math, writing, reading, etc—but also about your proficiency as a test-taker. If you're relatively familiar with the content but aren't sure whether there are areas for improvement that spring from the format and environment of the test, then that diagnostic test isn't a bad idea.
In the end, the distinction is pretty simple: Do you know you have a significant weakness you'll need to work on? Then don't bother with a "diagnostic," and instead take a full-length practice test once you've already done some studying. Do you need to find out where you stand, because you're already relatively confident? Then yes, go for it and take the diagnostic.