Let's face it: graduate school isn't exactly a time in your life when you'll be flush with money. So if you're applying to grad school and hoping that your GRE scores will help you rustle up a little extra cash, there's good news and there's bad news. You want the bad news first? Here it is: GRE scores alone aren't enough to get you money for grad school scholarships. That's because there is no such thing as a GRE scholarship, per se.
But the good news is pretty good. With strong GRE scores, you'll put yourself in the running for funding that can cover both tuition and living expenses—you just need to know how to use them.
GRE Scores and Research Funding
Unlike the PSAT, which you may have taken in high school, scoring well on the GRE doesn't put you in the running for a national scholarship competition (in the case of the PSAT, that's the National Merit Scholarship). Remember, the main purpose of the GRE is to help individual graduate programs evaluate your application.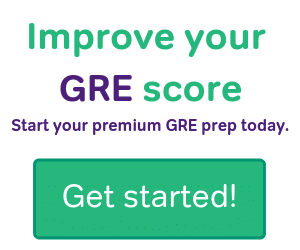 And that's great news, because a lot of individual graduate programs have funding specifically for their graduate students. Sometimes this comes in the form of research grants, in which case you'd get money for assisting professors with a prestigious project. Other times, it comes in the form of outright grants, or money with no strings attached (other than, of course, attending that particular program!).
So how does this relate to GRE scores? The higher your GRE scores, the more outstanding your application will look to these programs and the better chance you'll have at landing one of these grants. Sometimes you'll need to fill out separate applications to be considered; it's always a good idea to check with admissions committees well in advance of application deadlines.
GRE Scores and University Scholarships
Even if your program doesn't pay out the big bucks, that doesn't mean that you can't get school funding to pursue your graduate work. All it means is that it might not come from your particular department. That's right: at a lot of schools, particularly larger research universities, there are scholarships and stipends for graduate students in many, if not all, disciplines.
Your GRE scores will really come in handy here. In fact, they may be the determining factor, along with your undergraduate grades. After all, comparing graduate students in different programs is like comparing apples and oranges. Outstanding GRE scores are one way you can stand out from the crowd using an objective scale.
How can you go about raking in these funds? Usually, schools only name the recipients of these scholarships after they announce who's been admitted to which graduate programs. Applying for them may be as easy as ticking a box on your grad school application form, or as complicated as submitting essays or even additional letters of recommendation. In this case, your departmental administrator can be of some help, but you'll really want to work with the grad school admissions department to find out how you can get some of that cash flowing your way.
GRE Scores and Private Scholarships
If your school's as broke as you are (or if you missed out on some of the above opportunities), don't despair! There's still GRE money to be had. Two words: go niche.
How niche?
Super niche. You can get a scholarship for being a woman studying business at a particular school. Live in Hampden County, Massachusetts? There's (potentially) money for you, too! Factors that may help you get grad school scholarships include race, gender, nationality, field of study, residency, membership (or your parents' membership) in a certain club, religious organization, or industry, and many more factors. There's lots of money out there, so don't be afraid to go looking for it!
How relevant is the GRE here? Basically, when you're thinking about grad school funding, think outside the box of academic achievement—even though your GRE scores, in combination with other factors, will often be what helps you land this money.
GRE Scores and Government Scholarships
A lot of students don't realize that different government departments also provide scholarships for grad students. These are usually based on field of study and the particular department. If you're studying engineering (among other subjects), for example, look to the U.S. Department of Energy. If you're applying for programs in another field, turn to the Department of Education.
The key here is to look for governmental departments that align with your desired field of study, then check out the funds available. Again, GRE scores are one of a handful of factors that will determine who gets those funds!
A Final Word on GRE Scholarships
At the end of the day, just because there aren't GRE scholarships given for obtaining specific scores, that doesn't mean that strong GRE scores won't help you get money. Narrow down your scholarship search as much as possible using a variety of criteria, and get your apps in. Oh—and knocking it out of the park on test day won't hurt your chances any, either. Good luck!