A perfect GRE score is 340 (that's a perfect GRE Verbal score of 170, and a perfect GRE Math score of 170). If you're really shooting for the stars, a perfect 6 on the AWA essays should be on your list, too.
For some, achieving the impossible is scaling Mt. Everest. For others, it is bowling a 300. And for an even more select group, it is getting a perfect GRE score.
But who achieves such scores, and is it possible for anyone? That's an interesting question, one that I hope to answer – if there really is an answer – in this post. First off, let's explore who scores a perfect score (or at least close to one) on the GRE.
Who is most likely to get a perfect GRE score?
Tutors and teachers: The GRE math is actually very easy if you've taught math for years. As a result, of math tutors/teachers who sit for the GRE, many can score close to perfect. It's an old adage — to learn something best, teach it. You'll find that explaining a complex topic to one of your friends actually helps YOU learn as well.
Physics majors: On the old GRE, physics majors (like our Content Developer, Mike!) were more likely than any other major to get a perfect GRE score. A highly conceptual field, perhaps physics major were quicker to "get it."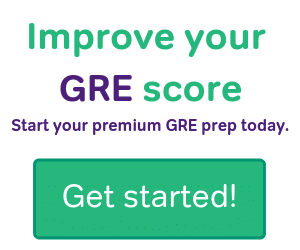 Poets who like permutations: Those with a strong affinity for language and a love of numbers are also at a strong advantage to do well or even get a perfect GRE score. Figuring out words in context is no problem. And the optional calculator will be nothing more than a floating icon.
Avid Readers: Those who read voraciously across a wide range will be at an advantage for text completions and reading comprehension. Avid readers are also more likely to hunker down and prep for the math section, even if that section isn't their inherent strength.

Students who like tests: Some people are just naturally great at standardized exams. Did you do super well on the SAT, or another standardized exam? If so, you probably have a good handle on the rhythm of test-taking, so you'll likely fare well on the GRE.
So let's say you aren't in any of these groups? Is it still possible for you to get a perfect score? Definitely. Will it take hard work? Well, is climbing Mt. Everest easy? Rhetorical question aside, you can still have a chance to do score perfect or close to perfect. So how do you get a perfect GRE score?
The Best Perfect Score Strategies
When studying for the perfect GRE score, don't just dive right into studying. Instead, make sure you have a method. The best students make sure that their studying is comprehensive, and that they study every single possible aspect of the exam.
Approaching questions willy-nilly or without a refined strategy can lead you to miss questions or fall for traps. Definitely find a strategy that works for you. Some opt for Kaplan's approach, some for Princeton Review. For a more thorough approach, either Magoosh or Manhattan GRE is best.
Finally, consider how long to study. In our experience, students who study longer score better. Trying to "cram" for the exam in only a week or two won't work for most students. Instead, you should think about your current skill level, and then assess how long you should study. We've written a whole other article about how long you should study. Read through it to get a better sense of your own personal situation.
The Best Practice Questions
If you practice with questions that do not accurately reflect what you'll see test day, guess what? You won't be getting a perfect score on the GRE. As a result, you want to be picky when you prep. To boil down our New GRE book reviews to the essentials, Magoosh and Manhattan GRE offer the most and the best questions.
However, neither can prepare you as well as the questions released by ETS, the writers of the GRE. As of now, there is a book and a free downloadable test/PDF file that you should definitely take before you walk into the test.
Furthermore, you should definitely use more than just one resource. Each test prep company has its own take on the GRE. Using just one might give you a slightly biased perspective on the exam. You might be exposed to slightly easier or slightly harder versions of a particular type of question. That could lead you to be ill-prepared for test day. Introducing variety, however, ensures you see a wide breadth of potential question types.
The Best Approach to Prep
We've written about this in numerous other blog posts. This includes a few key points:
Study like a scholar, not a student. That means being interested in the content, and not merely doing it for the test.
Studying long enough. You won't get a perfect score after only one week or one month of studying. Perfection takes time.
Prepare for the timed nature of the GRE. Mastering content is one thing, but getting a perfect GRE score also requires working under time pressure.
A Good Night's Sleep To Destress
Don't underestimate it – you will need utmost concentration. After all, if you are not paying attention, all the prep in the world won't save you. Getting to bed soundly before your exam might require some zen techniques, especially if you're stressed. Learning some ways to de-stress can definitely help you sleep better the night before your exam.
Additionally, be aware of any problems you have with test anxiety. If you know you're the kind of person who clams up in a testing room, then be prepared. Practice some zen techniques in advance, to reduce the impact of anxiety on test day.
Takeaway
I've coached students who broke a 4-minute mile, possessed a photographic memory, and, yes, climbed Mt. Everest—things that are beyond the grasp of most people. While they did not get a perfect GRE score, they improved from the low 40 percentile into the mid-90's. If such improvement is possible, then somebody starting at the 70th percentile mark for both math and verbal has a fair shot at a perfect score.
Be prepared, however, to study for at least a few months. In most cases, you won't get to a perfect GRE score by studying for only a week or two. With the right prep, the right focus, and, in some cases, the right background, a perfect score on the GRE is not impossible. Good luck!