Magoosh provides online GRE prep for thousands of students around the world. Right now, students from New Delhi to New York (and everywhere in between!) are using Magoosh on their computers to prepare for the GRE. To some students, studying online for an exam is a given. But us older folks (I'm only 27!) remember when online prep wasn't available. Instead, we had to crack open a series of (heavy!) books. Irrespective of your age, though, you might have questions about the GRE and online studying. Is online GRE prep right for you?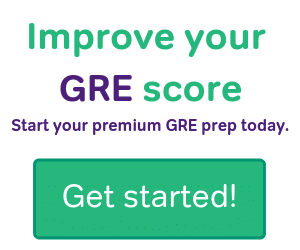 Let's go through some pros and cons of studying for the GRE online.
Types of Students Who Do Well With Online GRE Prep
Self-Studier
The students who succeed most with online GRE prep are those who are the best self-studiers. With online prep materials, you're going to be teaching yourself a lot. Unlike in a traditional classroom, where a teacher can walk you through content, online materials require you to figure things out on your own. But there will be plenty of helpful tools — such as Magoosh's lesson videos! — so you won't be completely alone.
Motivated
Motivation is also needed to benefit from online GRE prep. Compared to a more traditional course, online prep is going to leave the task of studying up to you. You'll have to choose between Netflix and GRE prep — to succeed, you'll have to resist the temptation to indulge in your favorite show. You need to have the will to choose binge studying over binge show watching!
Flexible
On a related note, students who appreciate flexibility will benefit from online prep. With online GRE prep, you can study whenever — and wherever! — you want. It doesn't matter whether you study while waiting for the next train, at your local coffee shop, or snuggled up in bed. The choice is yours. If you don't feel like studying one day, that's totally fine (but if it gets to be too many days of skipping, then maybe you have a motivation problem…).
Needing affordability
Finally, studying with online content is perfect for students looking for something affordable. While in-person courses can cost hundreds or thousands of dollars, an online prep course is usually much cheaper.
When Online GRE Prep Isn't a Good Fit
Easily Distracted
There's some research that suggests that the internet has shortened our attention spans. Are you one of those people who just can't resist that adorable cat or dog video on YouTube? If you find yourself easily distracted online, then online GRE prep might not be right for you. You're likely to find yourself sidetracked by such diversions.
Social Studier
If you hate being alone, then studying for the GRE online will require some extra effort. It's very common to study for the GRE online alone. By definition, many online GRE prep accounts are for one person and don't involve a lot of interaction. But that doesn't mean you must study alone if you use an online course. Find some friends who are also studying for the GRE and do your online prep together!