Joe's got some great tips for us about both studying for the exam and dealing with stress. Thanks, Joe! 🙂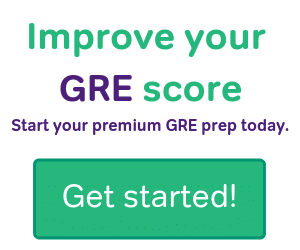 About me: Hello! My name is Joe, and I'm from the lovely (see: quaint) city of Omaha, Nebraska. However, I moved to Atlanta, Georgia with my family smack dab in the middle of high school. I stayed in the area for college, enrolling at Georgia Tech with a major in Psychology. I recently graduated with my B.S. and am currently working at an educational research non-profit that operates from Georgia Tech's campus. I plan on attending graduate school in Industrial/Organizational Psychology in the Fall of 2015. In my down time, I like to be as lazy as possible and binge watch television shows on Netflix and Hulu, or if I'm feeling up to it, I'll compulsively clean the house and cook grand dinners for one while embarrassingly dancing along to loud music.
Biggest challenge on the GRE: Initially, I suspected that the quantitative section on the GRE would prove to be the most difficult, as that subject area has never been my strong point. However, upon encountering some practice problems, I realized that the verbal problems were incredibly difficult. I also wasn't doing so well on the quantitative questions after some practice due to their being designed to fit into a reasoning test, which I have never taken before. At the end of my long study plan, I realized that I was still performing poorly on some quantitative questions (e.g. counting, algebra, coordinate geometry) and verbal questions (e.g. medium and short passages, three blank sentence completion). But I booked my brain into high gear for the last few weeks and did as many practice questions as possible. Magoosh gives you very difficult problems and the explanations seem initially confusing, but when you step back and think some more, you realize that you've been viewing the problem the wrong way. This helped me view each of my trouble areas in a new light and adjust my way of thinking to get more questions right in the future.
Tips for other students: Practice, practice, practice. There are not enough scary words to describe how much practice one needs to study for the GRE. After all, how are you supposed to learn anything or improve if you've never attempted something? Magoosh offers a plethora of practice problems, ranging from easy to very difficult. If that's not enough, they even offer the best outside resources to keep your brain thinking, and that's incredibly important for this type of exam. I also highly encourage people to pace themselves and always time your practice problems. By pace yourself, I mean utilize one of Magoosh's very well outlined study plans and time your practice. I didn't realize how important this was until I started taking practice exams and had to randomly guess on a few difficult questions. Speaking of difficult problems, always come back to those problems after you have finished the easier questions; they will still be there later when you have more time to focus on them. Additionally, I cannot stress the importance of vocabulary enough. The GRE will throw some crazy words at you, and you must be prepared for anything come test day. There are also important nuances between two very similar words that will be vital to getting certain difficult questions correct. Finally, take a breather every now and then; get out, go do something, shake the stress off. This applies to both your study plan and on test day. Take a day off every week to do everything but study, and do NOT try to get through the exam as quickly as possible, you must take advantage of that 10 minute break. And don't forget to tell yourself that you've got this. Motivational speeches to yourself in your bathroom mirror have never hurt anyone…right?