Oh Barron's GRE 21st Edition… when it comes to finding updates in your GRE books, we find you quite barren (No? It almost works, okay. I'll stop now.) That one of the most noticeable changes from Barron's 19th edition to the 20th edition was that the phrase "New GRE" on the cover was replaced with "GRE" did not bode well for those hoping that the 20th edition would be an upgrade over the 19th edition. Less has changed between the 20th and 21st editions.
The sections and the questions are identical; the spare explanations are equally spare. If you have the 19th edition, then buy this book for the 3000-word vocabulary list. But if you have the 20th edition, don't bother spending more money. You'll basically get a new font and format.
(It's like a "Spot the Difference" game)
Barron's GRE Book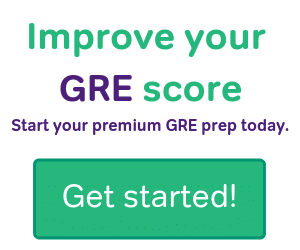 Before you run out and start gobbling up the words, let me share a few thoughts. First off — and if you've been reading this blog you've heard me say this many times — word lists are the single worst way to go about learning vocabulary, especially long tedious word lists in alphabetical order. And at a whopping 3000 words, Barron's list, starting with abase and going to zenith, is definitely long.
Back during the era of the old GRE, learning 3,000 words made some sense — the old GRE was more vocabulary-centric. But when it comes to the current version of the GRE, learning this many words might not only be overkill but you might cause you to burn out somewhere around jaded, which is under Word List 28 (out of a total of 50). In which case, you will miss many of the high-frequency and relatively high-frequency words from the rest of the alphabet. Sure, you may very well complete the entire list, but in doing so you are not being as targeted and time efficient as you could be.
Of course that's all assuming that you do the very time-consuming thing of taking those 3,000 words and turning them into flashcards. See, if you simply read a list, hoping that the words will stick, you are likely to be left crestfallen. What will most likely happen is you will remember words for a only a short while. By the time you've gotten to jaded, abate will have long abated, not to mention words as recent in the alphabet as fulminate.
So use Magoosh flashcards as the fundamental approach to learning vocabulary. Use the app and study on your phone instead of wasting time making flashcards for rare words. There are other effective techniques to build off of flashcards techniques, which I talk about elsewhere on the blog. Nowhere, though, do I mention the static list.
That is not say Barron's list is completely useless. If you already have a very strong vocabulary, let's say you recognize about 85% of the words on the list, then skimming through the Barron's list and picking out some words you don't know can be helpful—as long as you turn them into flashcards. Finally, Barron's has marked off 320 words as essential. It even recommends that you turn these into flashcards. I do too. As long as you don't get bogged down in the quagmire of words that is the Barron's GRE 3000-word list.
If you were wondering about the rest of the book, it is exactly the same as the 20th edition, which is basically the same as the 19th. For the review of that book, read here: Barron's New GRE 19th Edition Book Review
Barron's GRE 21st Edition Grade
Grade: C+
This book is basically the same as the 19th edition, which was released before the "new" GRE had even debuted. The good news is that the 21st edition is currently selling for about $11 (US) on Amazon, so it certainly won't break the bank. But there are better options on the market.
Better GRE Prep Books
Speaking of which … don't settle for sub-par materials! Each year, we update our post of the best GRE books, which includes our top choices of prep materials on the market. Here's a brief list of the top 6 books that we recommend:
Editor's Note: This post was originally published in November 2013 and has been updated for freshness, accuracy, and comprehensiveness.