Você está se candidatando para programas MBA de linha? Acha que precisa fazer uns 760 pontos para isso? Pense novamente.

Se você tem uma candidatura boa para uma escola de negócios, provavelmente não irá precisar de uma nota praticamente perfeita no GMAT para ser admitido em um programa de MBA. Mas como saber se a sua pontuação no teste é suficiente? Não tenha medo, nós coletamos dados de pontuação de GMAT dos escritórios de admissões de todas as melhores escolas de negócios.

Atualização especial: Nós coletamos as informações mais recentes para as 10 melhores escolas de negócios dos Estados Unidos. Veja a seção imediatamente abaixo.
Pontuações Médias de GMAT para Programas de MBA nas 10 Melhores Escolas de Negócios (Gráfico)
Observação: Essas são as informações mais atualizadas sobre as pontuações médias de GMAT e outras estatísticas importantes. Todos os dados, incluindo o ranking das escolas, vêm da U.S. News and Word Report.


Name of MBA Program/Business School
Average GMAT Score
Rank

Enrollment

Stanford University
738
1
426
University of Pennsylvania
(Wharton)

733
2
877
University of Chicago (Booth)
732
3
620
Harvard Business School
730
4 (tie)
1010
Massachusetts Institute of Technology
(Sloan)
730
4 (tie)
450
Yale University
730
4 (tie)
349
Columbia Business School
729
5
844
Northwestern University (Kellogg)
727
6
508
University of California-Berkeley
(Haas)
726
7
291
Darthmouth College (Tuck)
724
8
294
University of Michigan - Ann Arbor (Ross)
720
9
380
University of Virginia (Darden)
715
10
351
Infográfico de Pontuação GMAT
Claro, há muitas outras escolas além das 10 melhores. Quando se trata de pesquisar e encontrar o programa de MBA que melhor se encaixa, os números do ranking não dizem muito.

Veja abaixo a média de pontuação no GMAT para uma grande variedade de escolas de negócios bem conceituadas nos EUA.

Observação: Esta informação é recente, mas não é tão atualizada quanto os dados na tabela acima. Mesmo assim, essas estatísticas devem dar uma boa ideia da expectativa do GMAT para tais escolas. Mais atualizações virão em breve. Enquanto isso, use a tabela para ter uma ideia geral de onde você se colocaria em cada escola.


(Clique na imagem para abrir o infográfico em uma nova página e dar zoom!)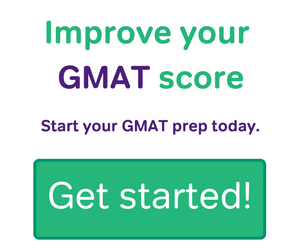 Compartilhe Essa Imagem Em Seu Site

Importante observar: oficialmente, a escala GMAT para Verbal e Quantitative vai até 60, mas na prática, o limite da escala é 51. Hoje em dia, uma pontuação parcial Verbal de 46 lhe colocaria na 99º posição na pontuação de percentil do GMAT, enquanto uma pontuação parcial quantitativa de 51 lhe colocaria em 97º.
Como consigo entrar em uma escola de negócios boa?
Para avaliar precisamente sua pontuação no GMAT, você deve entender o quadro geral de admissões do teste e lembrar-se que sua nota é apenas parte da sua candidatura.

Primeiro, familiarize-se com o estilo de pontuação do teste. E então, compare sua nota com as pontuações médias do GMAT de estudantes admitidos nos programas em que deseja entrar. Tenha em mente que a nota média para escolas de negócios boas não é o mínimo necessário, já que aproximadamente metade dos candidatos entram na escola com uma nota menor que a média. Isto significa que você pode encará-la como ela é – uma pontuação média.

Se o seu GMAT for bom o suficiente para o programa que quer, então foque sua energia em fortalecer outros aspectos de sua candidatura. E se a sua nota não é boa o suficiente, considere refazer o GMAT para que você consiga diferenciar-se de outros candidatos com perfis similares ao seu.
Qual é Uma Nota Boa no GMAT Para Você?
Finalmente, é preciso decidir qual é uma boa pontuação no GMAT para você. A nota deste teste pode ser primordial para o processo de candidatura, mas mesmo uns 720 de pontuação combinada não farão com que você entre na melhor escola de negócios se não tiver um perfil muito bom para fortalecê-lo. Seu perfil inteiro deve representar, honesta e efetivamente, seus sucessos, habilidades e potencial.

Mas mesmo assim… um 720 não iria ser ruim.

Se você precisa de ajuda para chegar lá, então entre em nossa Preparação GMAT Magoosh! E enquanto estiver lá, deixe-nos um comentário abaixo falando o que achou do infográfico 🙂


Esta postagem apareceu originalmente em inglês no Magoosh blog e foi traduzida por Jonas Lomonaco.